Holley's Tire Service: In the Business of Caring for 60 Years – San Clemente Journal
4 min read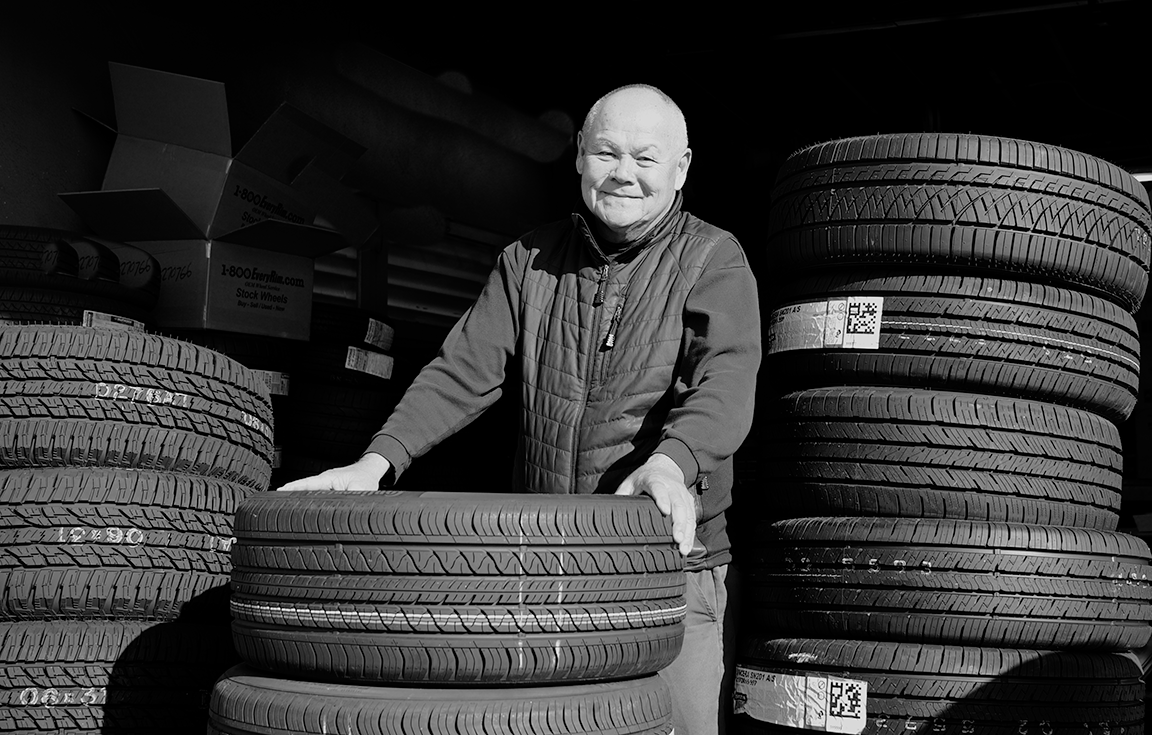 by Mike Chamberlin
He may deal in tires but make no mistake … he's a sparkplug!
Ron Strickland runs Holley's Tire Service at 1225 N. El Camino Real; he's run it since the early 1990s. But before that he worked as a tire tech for the original owner, Bruce Holley, who started the tire shop in 1961. 1976 was the year of good fortune for Ron, the year he started changing tires and learning the business from Mr. Holley. Little did Ron know Bruce was grooming him to take over the business.
A little history on Ron Strickland. He was born in Japan to an Irish-German father and a 100% Asian mother. Dad was a marine, so Ron saw the world through military stops in Japan, Florida, North Carolina, and eventually El Toro, where his father retired from the Marine Corps. His California roots planted him in Irvine, where he graduated from University High School. That's where he took a great interest in auto shop, and his fascination with cars began. He raced slot cars and bicycles and attended events at Orange County Raceway, which was near his home. He remembers his first car like it was yesterday, "Through odd jobs I saved $1,500. My dad offered to match it towards my first car, a Toyota Corolla."
And this all led to a long road in the tire business.
There are seven tire shops in San Clemente, but what sets Holley's Tire Service apart is exceptional, almost obsessive customer service. You come in for a new set of tires at Holley's and you leave a friend of Ron's. He cares about your tires, but he also cares about you. In a matter of minutes, he knows about your job, your family and, of course, your tires. Ron's business strategy is simple: honesty, quality product and customer service.
"We are in the people business; we just happen to sell tires." He continued, "The tire business is not a glamorous business, but it's an honest living. I would have loved to have been an orthopedic surgeon, but I happen to sell tires."
And sell tires he does. There's a steady stream of people in tire need all day long. His staff of eight is busy pulling nails out of tires, rotating. aligning and selling tires. Holley's Tire Service is, for all practical purposes, where the "rubber meets the road." All the while getting to know the customer, his reviews are full of five-star comments:
Joan L, San Clemente: "The employees treat you like family."
Gerry F, San Clemente: "I would go back in a heartbeat, family owned, super nice and great service."
Lani R, San Clemente: "My tire light was on, and they had me in and out in no time, they don't rip you off like other places might. Thank you, Ron."
Ron responds to each review, good or bad (but it's hard to find bad ones).
Ron recalls one day when three legacy San Clemente business owners were in his shop at the same time: Ruth Denault, of Denault's Hardware, Larry Tiberi, son of founder of Sam's Shoes, and Alexis Carter, daughter of Dewey's TV founder.
Even during this time of covid, Ron did not stop. "The automotive industry nearly closed, but doctors and nurses had to get to work, they needed to drive, they needed tires and therefore we were considered essential workers." He admits the supply chain has affected his business, admitting that there are tires he needs that are sitting off the coast of San Clemente on cargo ships north and south of the Catalina Island.
Ron has a love for this city like none other. "San Clemente has a small town, hometown attitude. We try to continue that feeling." And according to Ron, behind every successful man is a successful woman, or in this case his wife of 47 years, Christine. "She is the cornerstone of my life and my business." Christine runs the office and the bookkeeping. She has this take on her husband of almost 50 years, "He's always willing to help, to take care of people."
The Stricklands produced two daughters, Megan, and wouldn't you know it, the second daughter's name is Holly.
Holley's Tire Service has been providing auto repair and tire sales to at least three generations of families in south Orange County since it was founded in 1961. My last question to Ron was, "How many tires have you sold?" His answer, "Not enough."