What's the best way to store my tires? – Driving
4 min read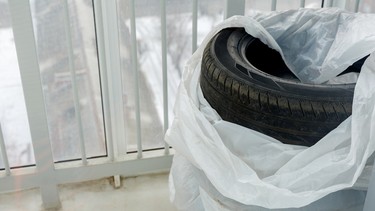 Proper care can prolong your tires' life.
Article content
Oh, would my dad ever curse.
"You're messing up my plan!" he'd shout, smirking.
Dad was the man with the plan when it came to snowplowing our family driveway, and with my broken 240SX frozen into three inches of ice by its tires and wheels one winter, that plan was in chaos.
Article content
"If you don't get that out soon, I'm going to bury it with the Husqvarna!"
Dad loves his snowblower. It'll chuck powder 25 feet. This is a northern Ontario winter we're talking about, by the way.
Anyhow, the spring thaw eventually freed my Nissan from the icy clutches of my driveway in Lively, Ontario, and you know what? The tires were fine.
Flat? Yes. Ideal situation from a tire care perspective? Absolutely not.
Still, even after a winter spent flat and embedded in ice, I blew those Dunlops right back up and drove another 3 years on them with no issue. Ah, 2004.
The point is, tires are pretty damn tough, and I think people are worrying too much about how to store them.
Article content
Every October I get a thousand emails and comments from readers asking advice: what are the dos and don'ts of tire storage? What's the best way to store my off-season tires? What do I do in my garage at home during tire-swap season?
Further, it turns out "Can I store my tires outside?" and "Is it bad for my tires to park in a puddle?" are common web search questions on the topic of tires.
Look, your tires are built to support thousands of pounds of weight, tremendous loads and g-forces, and extremes of heat and climate road-surface conditions. They'll roll endlessly through salt, sand, rain, snow and mud — all while surviving almost constant impacts from the road surface.
They'll be fine in your shed — provided you store them the right way.
Article content

What is the best way to store tires?
Two things kill tires in storage: sunlight and air.
The solution to both is to place each tire (or tire and rim) into a garbage bag, tie the bag shut with a knot, and forget about it. If you're storing a studded or heavy-duty tire, or if you'll need to move your stored tires around, I'd go with a 'contractor grade' garbage bag (widely available at Home Hardware), because they're tougher and won't rip as easily.
If you're storing a car seasonally, a little extra TLC can help prevent trouble, too.
First, over-inflate the tires slightly. They'll leak air during months of storage, and you don't want them to go flat. I'm normally running a vehicle-specified 34 psi in my tires; for storage, I pump that up to 40. Then, I park in my (non-heated) garage with each tire on a small square of thick scrap carpet or some dense styrofoam. The idea is to put something forgiving between the tire and the concrete garage floor. This is totally optional, but I find it prevents flat-spotting.
That's it. In the spring, I check and adjust tire pressures and carry on driving.
Your tires are one of the most important parts of your vehicle, and they don't come cheap. Properly caring for your tires can prolong their life, and in 17 years of seasonally storing my own cars, these approaches have never left me down.